Elevate Your Business
Optimal workspaces and comprehensive support for innovative business to work on the solutions of the future.
Elevate Your Business
Optimal workspaces and comprehensive support for innovative business to work on the solutions of the future.
Access Your Markets
A work environment that connects local benefits with global opportunities.
Access Your Markets
A work environment that connects local benefits with global opportunities.
Benefits
The Coworking Space The 5th Floor offers a motivating and progressive environment that encourages young talent, supports them in the development of their visions and goals and helps them to succeed. This is where you get in touch with companies that are working on the solutions of the future.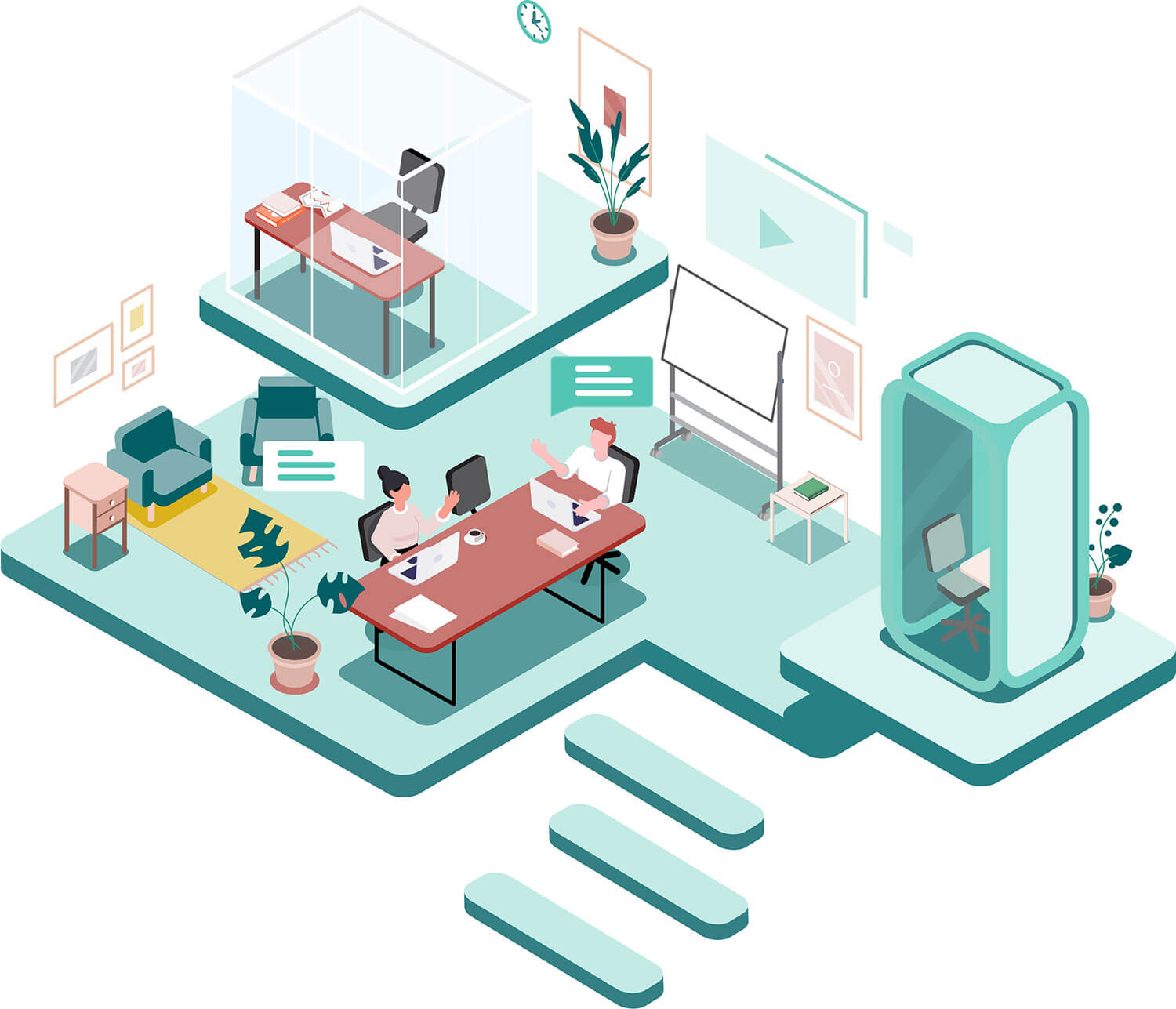 A New Work Environment
The 5th Floor offers a modern, high quality space, that fosters individual, as well as collaborative, productive working. Users are offered lockable cubicles and private offices, dedicated desks, and a flexible Coworking Space. Additionally, you have access to rooms for meetings, conference calls, and individual calls and can make use of offers for workshops and events.
Comprehensive Services
The 5th Floor is aimed at industry-specific innovation potential and growth opportunities for users. You can take advantage of mentoring offers and services that cover the entire life cycle of a business. An excellent connection to transport-networks and various additional services guarantee a flexible leisure time on site and an individual and agile work environment.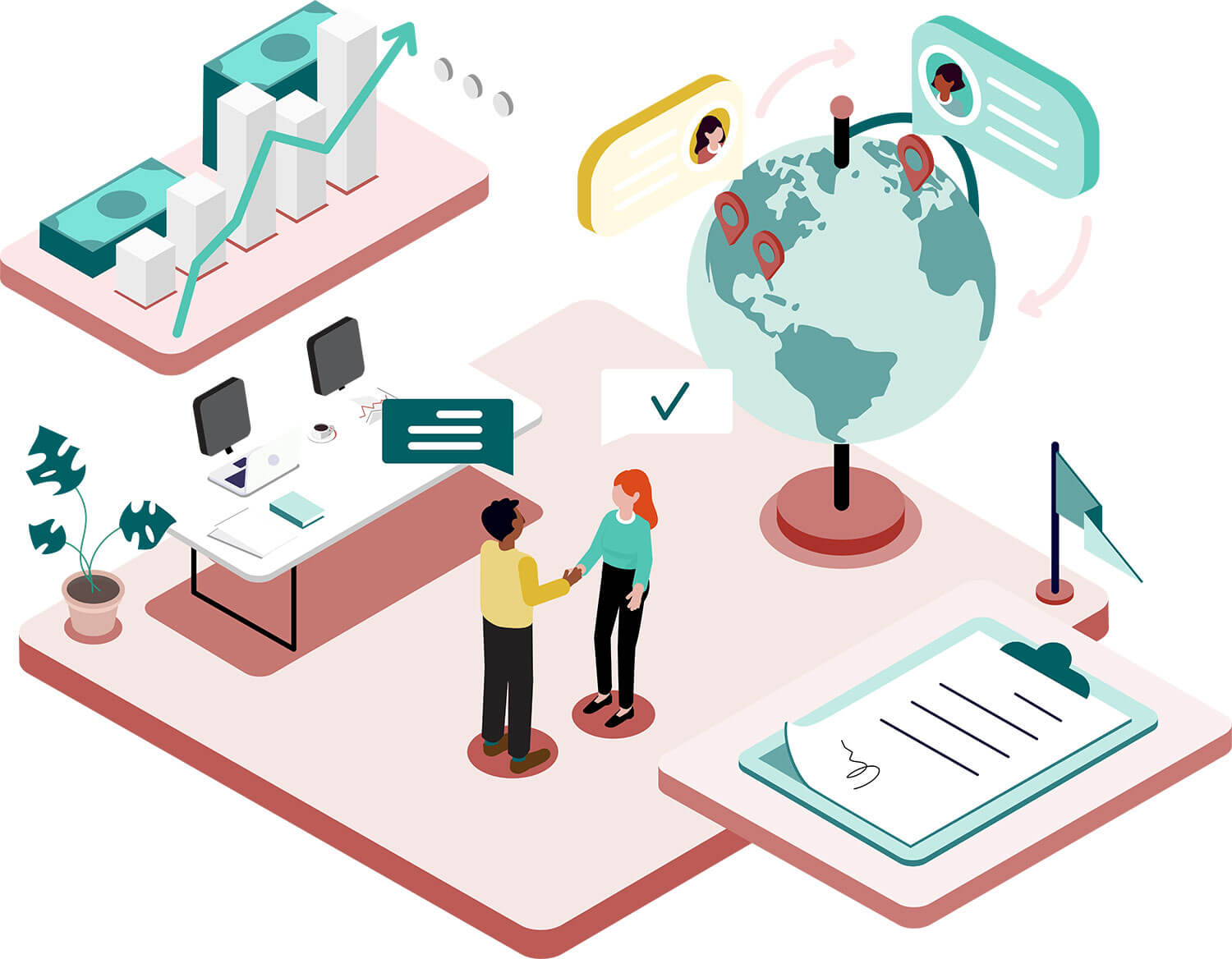 Network and Capital
The proximity of The 5th Floor to the FHNW University of Applied Sciences and, in the Basel area, to the pharmaceutical and life sciences industry and its suppliers opens up interesting recruiting opportunities. Tenants gain access to additional office locations in the world's most attractive growth regions and to investors, banks, interesting partner companies and industry leaders, as well as to the most important Start-Up competitions.
A family-friendly Work Environment
Balancing work and family life is challenging and multi-faceted. This is why we have created the Family Card. Our card is designed to enable you to work and network flexibly and efficiently, especially in the new working environment following the COVID 19 pandemic - all in the same building!
With the 5th Club you will become part of The 5th Floor in the sitEX Powerhouse - the largest joint office in Switzerland and a unique innovation campus in Muttenz. The building houses a fitness center, a day care center , a canteen, further catering facilities (Felfel) and more than 440 parking spaces.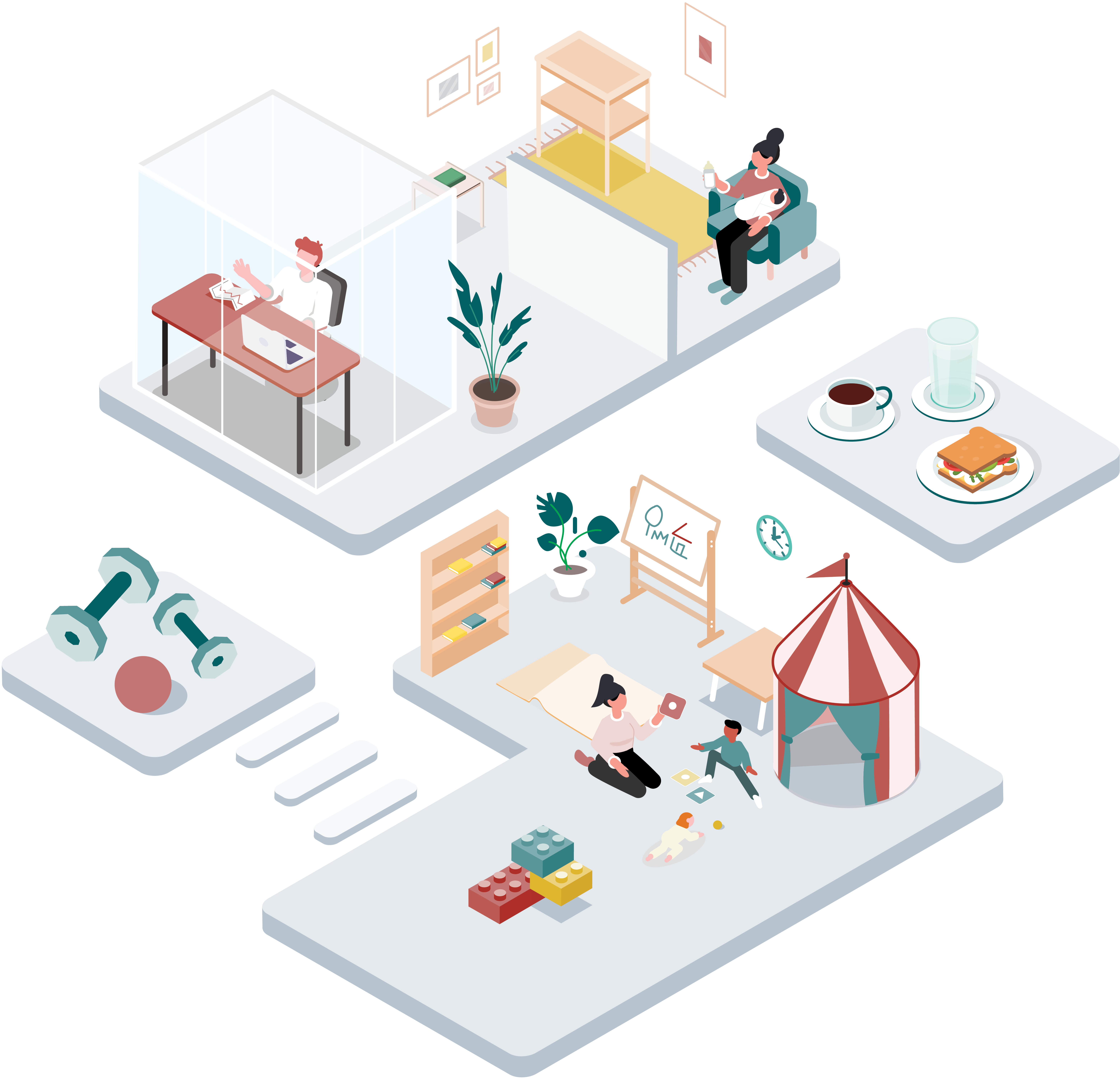 Impressions
The 5th Floor offers a comprehensive work space programme - from virtual office to flexible coworking desks to lockable private desks.
Floorplan
Covering 4000 square meters, we offer a wide range of spaces. In addition to our coworking and office space, we offer meeting and seminar rooms, a community laboratory, a project room and a multimedia room.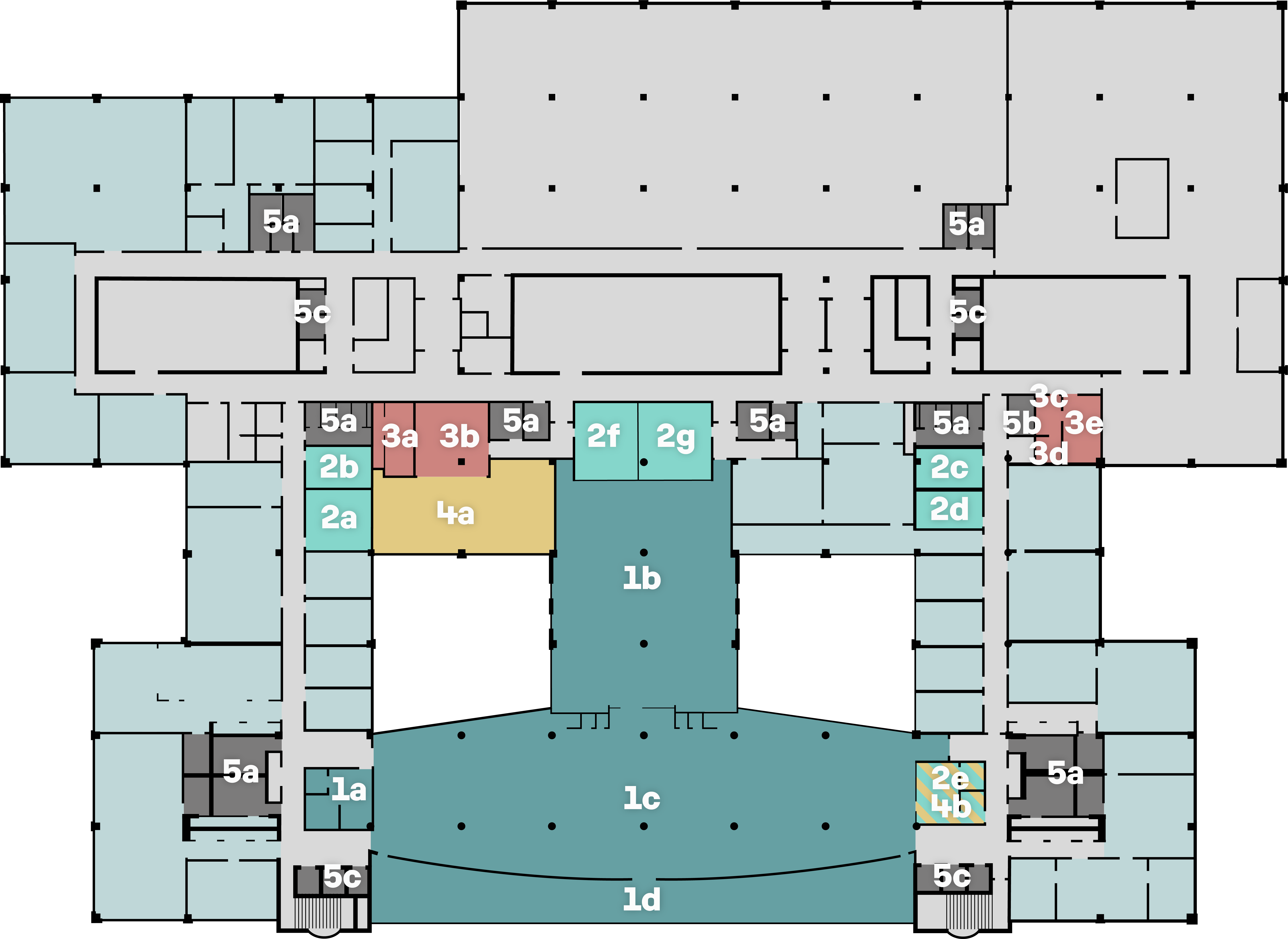 Coworking Space
We offer a variety of memberships from virtual office offers, over coworking desks and dedicated desks, up to private desks located in lockable glass cubicles.
1a.  Reception
1b.  Social Square
1c.  Coworking Space
1d.  Terrace
Meeting Space
The 5th Floor offers high-end, fully-equipped modern spaces for meetings, seminars, events, workshops and much more.
2a.  Meeting room "Basel"
2b.  Meeting room "Orlando"
2c.  Meeting room "Singapore"
2d.  Meeting room "Sydney"
2e.  Meeting room "Boston-Cambridge"
2f.   Seminar room "Zurich"
2g.  Seminar room "London"
CO.LAB Space
Since Q2 2021, we are offering a shared laboratory on The 5th Floor, which can be rented on a monthly or annual basis.
3a. Chemistry Lab
3b. Biology Lab
3c. Ice machine
3d. Autoclave
3e. Lab Waste Disposal
The Future Room
In addition to our meeting and seminar rooms we offer spaces for creativity.
4a.  The Future Room
Office Space 
As one of the largest private office- and commercial properties in Northwestern Switzerland, the sitEX Powerhouse offers a variety of rental spaces.
Common Spaces
5a.  WC-Facilities
5b.  Kitchen
5c.  Elevator
Offering
Pro-Working brings The 5th Floor's offering to the point: Our tenants choose workspaces and services tailored to their needs. Flexible and for a limited time, or including all services. (all prices are excl. VAT)
Virtual Office

(Superior)

Space

Isolated Phone Booths

Rooftop Terrace

Community Square

Personal Desk

24/7 Access

Services

Business Address

Member Portal Access

Front Desk (Concierge)

Mail Handling

Coffee

Wi-Fi

Printing

Security

Access Surveillance

Digital Access Control

Personal Locker

Lockable Cubicle
Would you like to become a Member?

Concierge Level Services
Receives guests, organizes office supplies and much more.

High-Tech Meeting Rooms
First-class meeting rooms, that leave nothing to be desired. 

Events & Partys
Networking, Inputs und more thanks to a variety of events.

Stay Safe
Entrance and important zones are camera-monitored.

Snack & Stay Healthy
Fresh snacks and fruits in our Felfel fridge.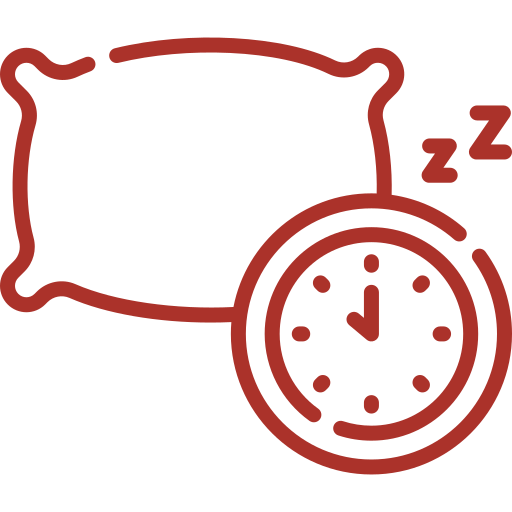 Relax
Relax and calm down in our comfortable chairs.

Hydrate
Coffee and water station: Hot, cold und sparkling!

Eat in
Access to the canteen with afforable menu options.

Shop
Shopping facilities on the ground floor - open all day on weekdays.

High Speed Internet
Excellent Internet with secure connection and 99.95% uptime.

Copy
Access to printer, copier and binding machine.

Fly High
Drone landing pad on the roof (planned).
Blog
New organizational forms, innovation in the fields of workspace design, interior design, trends from the world of start-ups - our blog "Insights" keeps you up to date on the new forms of work and everything related to them.
Our Location
The 5th Floor in Basel-Muttenz is open!

Car / Bicycle
The 5th Floor is located at Hofackerstrasse 40 in Muttenz – right next to the University of Applied Sciences and Arts Northwestern Switzerland FHNW.

Bus, Tram
The bus lines 47 and 63 go to the bus stop "Muttenz, Fachhochschule".
Tram no. 14 takes you to the stop "Muttenz, zum Park" – The 5th Floor is only a ten minute walk away.

Train
Muttenz station, with a direct, every half hour connection via the S1 to Basel, is in the direct proximity.